Electronics Flea Market
The Electronics Flea Market tentatively resumes on March 10, 2024. The planned location (directions) is parking lot 3 at West Valley College in Saratoga:
West Valley College
14000 Fruitvale Ave
Saratoga, California 95070
The hours are from 6:00AM until 12:00 Noon. Please observe a quiet time before 8:00AM.
Please consider COVID-19 safety measures.
[Check this page for updates before attending these events in case of scheduling changes.]
For updates, please visit:
https://www.electronicsfleamarket.com/ (shortcut asvaro.org/efm)

ASVARO on Facebook (shortcut asvaro.org/fb)
EFM 2024 Tentative Schedule
TIME: 20231129082046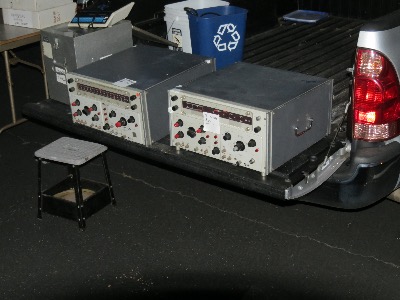 The Electronics Flea Market "swap meet" is being held on the second Sunday (6:00am - 12:00pm) of each month, March through September (schedule) (flyer [PDF]). The flea market is organized by ASVARO for the benefit of non-profit amateur radio organizations in the Silicon Valley.
Buyers enter the market for free, but parking on campus is $3 for the day. There are dispensers (WVC parking page) in all lots that accept cash, coins, and credit cards. Be sure to only park in properly marked parking spaces, observing "no parking" zones, handicapped parking spaces, and keep clear of walkways and traffic lanes. Use of handicapped spaces require the proper permit. Watch out for pedestrians.
The organizations that participate in the flea markets are active in amateur radio education, emergency communications, and civic support activities. If you would like to receive a reminder of each month's flea market and other news about the market, sign up on our email list.
The Electronics Flea Market is held on the second Sunday of the month and focuses on electronics and amateur radio gear. Sellers pay upon entry on a first-come first-serve basis. More details are below.
Flea markets are held rain or shine. Rain during the flea market season is typically intermittent and we still receive significant attendance.
Hours
The market opens around 6:00am and closes at 12:00 Noon. Sellers should pack up and leave the property by 1:00PM.
Seller Information
With our larger market space, regular seller spots are 2-spaces, and jumbo seller spots are 3-spaces. See our Seller page complete seller information.
$40

This is a regular (2-space) seller spot (two consecutive, adjacent parking spaces). You may park your vehicle in the space, but it must fit completely within the space.

$60

This is a jumbo (3-space) seller spot (three consecutive, adjacent parking spaces). There are a limited number of these spaces. You may park your vehicle in this space, but it must fit completely within the space.
You may lease multiples of regular (2-space) ($40) seller spots if you need more room.
Sellers must register with form CDTFA-410-D upon entry to the flea market as required by the California Department of Tax and Fee Administration.
Rules
The market closes at 12:00 Noon and all sellers must clear the property by 1:00 pm.
Quiet Time shall be observed until 8:00AM to protect the peace of the nearby residents. Please avoid driving down Allendale Avenue during this time. See FAQ (quiet time) for more details.
Sellers at the Electronics Flea Market must be registered before entering the flea market. See Seller information for details.
Ordinary Trash and Recyclables must be disposed of in the proper bins on site. Please, put ordinary trash in the trash cans. Place plastic bottles and metal cans into the recycle cans. All other waste including eWaste, hazardous waste, and cardboard must be removed from the property. Don't leave anything behind when you leave. Take your electronic recyclables to a recycling center.
No Cardboard may be left at the flea market site. Take all your cardboard with you and recycle it.
No Toxic Waste may be left at the flea market or in the trash. This includes: Batteries, Fluorescent lights, Electronics, Computer or Television Monitors, or electronics components. See our recycling page for information on what to do with recycling and disposing of toxic waste.
Dogs on Leash Only. All dogs to be on a leash. Each owner is responsible their animal, maintaining control and cleaning up after it.
Firearms are NOT allowed at the flea market.
Alcohol, Illegal drugs, and Smoking are NOT allowed at the flea market.
No unauthorized food/beverage sales. No food sales allowed at the flea market except for the sponsor's concession stand.
No adult material - the market is frequented by teens and families.
All participants are expected to comply with all applicable laws, including the collection and payment of taxes.
ASVARO retains the right to revise it rules for the market from time to time without specific notice. ASVARO and its agents retain the right to refuse entry to, or expel, anyone who does not abide by the rules or otherwise causes disorder for the market.
Trash, Toxics, and Recycling
California law prohibits dumping of electronics and batteries into the trash. Flea market sellers are expected to leave their areas clean when they depart. Take your unwanted electronics to a recycling center for proper disposal.
Please properly dispose of trash and recyclable items. There are trash cans on the property for ordinary trash. California law prohibits the dumping of electronics including computer monitors and television sets into the trash (they contain large quantities of toxic lead). Violators will be ejected from the market and banned from future flea markets. You can find out more about recycling on our Recycle page.
Consider taking your electronic recyclables to a recycling center.
Directions to the Electronics Flea Market
Purpose
ASVARO is a California non-profit public benefit educational corporation (501(c)(3)). The Electronics Flea Market is operated for the benefit of non-profit organizations in the Silicon Valley. All net proceeds from the market are used by these organizations to carry out their non-profit activities.
Talk-in:
History
This swap meet has been a staple of Silicon Valley Amateur Radio since the 1970's.
1974-2003

Held at Foothill College in Los Altos Hills.

2004-2005

Held in north Sunnyvale near where the "blue cube" (Onizuka AFB) used to be located.

2006-2018

Held at De Anza College in Cupertino for 12 years.

2018-2019

Held at Fry's Electronics in Sunnyvale.

2020-2021

Canceled due to COVID-19 restrictions.

2022

The markets reopened on April 9, 2022 Sunnyvale Public Library. The remainder of the 2022 season was canceled.

2023

The Electronics Flea Market opens on Sunday, April 16 at West Valley College in Saratoga, CA.
EFM on Facebook.
---
Thanks to Rick, WB5VUL for his many years of supporting the Electronics Flea Market and this web site!
The Electronic Flea Markets are managed by ASVARO.
Questions or problems regarding this web site should be directed to
webmaster AT asvaro.org

.
Copyright © 1997-2023 All rights reserved.
Last modified: Tuesday September 12, 2023