Recycle - Electronics Flea Market
The best recycling of electronics is reuse. However, when that is not possible, recycling is recommended, but always proper disposal. Electronic waste contains lead and other toxic materials and California law prohibits dumping of this waste in land fills. The dumping of computer monitors and television sets is already prohibited. California law prohibits disposal of batteries into the trash. Instead take these materials to a State certified Collector/Recycler.
Here is a partial list of banned materials most applicable to the flea market: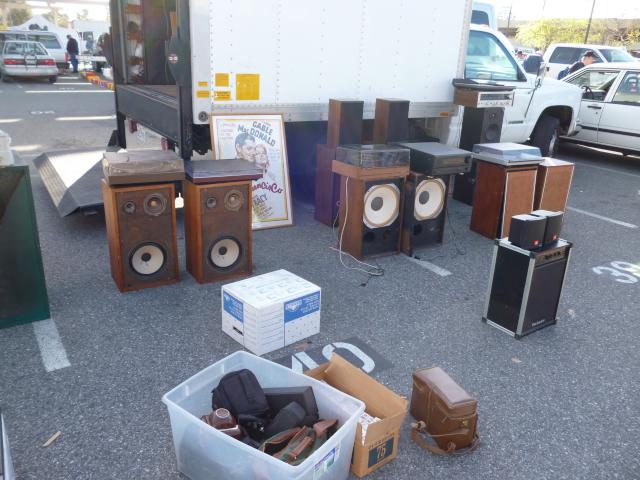 Fluorescent lamps and tubes. Includes fluorescent tubes, compact fluorescent lamps, metal halide lamps, and sodium vapor lamps.
Batteries. Includes all batteries, AAA, AA, C, D, button cell, 9-volt, and all others, both re-chargeable and single use. Also lead-acid batteries such as car batteries.
Computer and television monitors. Most monitors are currently considered hazardous waste when they have lived their life and are ready for recycling or disposal, including cathode ray tube (CRT), liquid crystal diode (LCD), and plasma monitors. Learn about the State program to offset the cost of proper television and monitor recycling.
Electronic devices. Includes computers, printers, VCRs, cell phones, telephones, radios, and microwave ovens.
Mercury-Containing Items. Devices which may contain mercury include: switches, relays, thermostats, pilot light sensors, mercury containing gauges (eg. barometers, manometer's, blood pressure), thermometers, some novelty items (eg. musical greeting cards).
A complete list of materials banned from the trash at the California's Department of Resources Recycling and Recovery (CalRecycle) web site.
Recycling Information Resources
RecycleWorks (San Mateo County)

ReduceWaste (Santa Clara County)
Electronic Waste Collectors/Recyclers
The following are recyclers in the local area who accept electronic waste for recycling. Be sure the check the hours and policy for a recycler before taking your materials over there.
Note that many of these recyclers have eliminated drop-off locations and may now charge fees. This is due in part to the drop in value of recycled material's.
ATT Recycle

215 Leo Avenue
San Jose, CA, 95112
408-313-0964
Hours: Mon-Fri 6:00 am - 6:00 pm, Sat-Sun 7:00 am - 5:00 pm.
(Accepts all electronic waste at no charge. $25 for refrigerator. Pickup for commercial only.)


Goodwill of Silicon Valley

950 N. 7th St.
San Jose, CA 95112
408-998-5774
(Accepts all electronic waste at no charge.)


GreenCitizen - "Recycling Electronics for a Cleaner Future"

[drop off center]
1831 Bayshore Highway, Suite 2
Burlingame, CA 94010
650-493-8700
(call for acceptable items, fees, schedule, or pickup)


TDR Electronic Recycling LLC, formerly E.L.M.A.R.S.

738 105th Ave.
Oakland, Ca. 94603
510-683-9622
Hours: M-F: 8am – 4pm, Sat: 10am – 2pm, Sun: closed
(accepts most electronics and small appliances, free drop-off, call to confirm acceptable items)


[Computers & Education] Computer Recycling Center

[Serving San Francisco and Santa Rosa] San Francisco drop off Sonoma County / Santa Rosa drop off

San Francisco: 415-643-6200

North Bay: 707-570-1600

Toll-Free in California: 1-888-8-used PC (888-887-3372)

(acceptable items include: computers, cell phones, and computer parts. They try to reuse before recycling. Call to confirm acceptable items.)

They accept most electronics for recycling for free. Fees may be charged for large appliances and TVs. Check the web site for details.

They accept CFLs, rechargeable batteries, and plastic bags. Use the link to nearby store(s) for recycling. Call the store to confirm they recycle your item(s) at that store.

They accept CFLs and rechargeable batteries. Use the link to find nearby stores. Call the store to confirm they recycle your item(s) at that store.

They accept used batteries and fluorescent light bulbs for recycling.

They accept used cell phones and cell phone batteries for recycling.
The Electronic Flea Markets are managed by ASVARO.
Questions or problems regarding this web site should be directed to
webmaster AT asvaro.org

.
Copyright © 1997-2018 All rights reserved.
Last modified: Monday February 25, 2019